Salted Stones started in high school as a fun hobby. Emma trademarked Salted Stones in 2011 in hopes to one day run her own business. She then took her supplies to college and sold jewelry out of her dorm room. Her senior year of college she started her first jewelry job in production and sales at a small boutique in San Francisco, CA. A year later, she was offered a manager position at another boutique where she would run the store, travel to trade shows for wholesale accounts, and would make several jewelry pieces for the shop. 
Wanting to advance her skills she enrolled in a goldsmith course and realized that she wanted to refocus her career on jewelry fabrication. She enrolled at the Gemology Institute of America in Carlsbad, California. This is where she started her graduate jeweler course, where she learned basic skills on the bench such as soldering, stone setting and finishing work. Eager to learn more she took a job as an apprentice to a jeweler in Carmel by the Sea. After a few years in the position, she realized it was time for her to take a leap and make Salted Stones her full time venture. She has always dreamed of being her own boss and being able to create freely for customers in her own unique way. After gaining over 10 years of experience in the jewelry industry, she eager to continue learning and growing with Salted Stones.
Salted Stones is quality everyday jewelry that is made to last. This classic buildable collection, inspired by the California beachy lifestyle, will have you wanting more!
Owner and Designer Emma is a trained GIA graduate jeweler, who hand crafts each piece with precision and care. She uses natural gemstones and diamonds to create one of a kind customs and simple but unique pieces that are perfect for every day!
The collection is made in Emma's studio in Pacific Grove along the California Coast. Can't wait to see you in your Salty Stacks!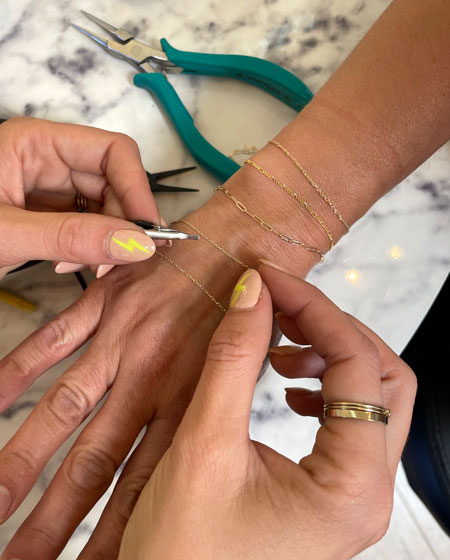 NOW OFFERING PERMANENT JEWLERY
We are so excited to break into the permanent jewelry market. Now introducing, Salty Sparks by Emma May. Necklaces, bracelets, and anklets in 14k solid gold chain of your choice. Make an appointment today!
Latest From Salted Stones!
Sign-up to hear about new arrivals and offers.